Sign Up for Our Newsletter
IRF Employee Engagement Case Study

(2013)
43,890 employees
16 full service health centers
Locations in Ohio, Nevada, Florida, Canada and Abu Dhabi
Ranked one of the top hospitals in America (U.S. News and World Report 2013) the Cleveland Clinic is a growing organization, with success greatly supported by their employee engagement work began in 2008. Central to their initiative is an innovative, multi-tiered recognition program used to strategically align employee engagement with organizational goals.
A Role-Based Engagement Strategy
Cleveland Clinic used a role-based approach to drive desired outcomes, choosing speci­fic behaviors to target, measure and reward by both headquarters and front line managers. Embracing employee engagement in 2008, Cleveland Clinic made it a part of a major change initiative designed to transform how every employee delivered patient care -- a hallmark being for every employee to focus on his/her role as a caregiver.
"We are all caregivers" extends as the overall theme and identity to embrace by every single employee in order to ensure a more "patient centric delivery model" which began in 2006. This coincided with a major facilities expansion, restructuring, and the appointment of a chief patient experience officer in 2007.
Their Foundation: Total Rewards
Cleveland Clinic offers total rewards to their employees. The organization assured they had comprehensive and adequate health care, including wellness programs, pension / investment, tuition reimbursement, adoption help, an Employee Hardship Fund in which employees apply for fi­nancial support based on emergency needs; home purchase assistance; employee discounts for purchases such as computers, sporting and theatre event tickets, cell phones services and other local venues (employees saved over $2 million dollars annually on discount purchase programs). In addition, they adjusted jobs to assure that they were paid at current market levels.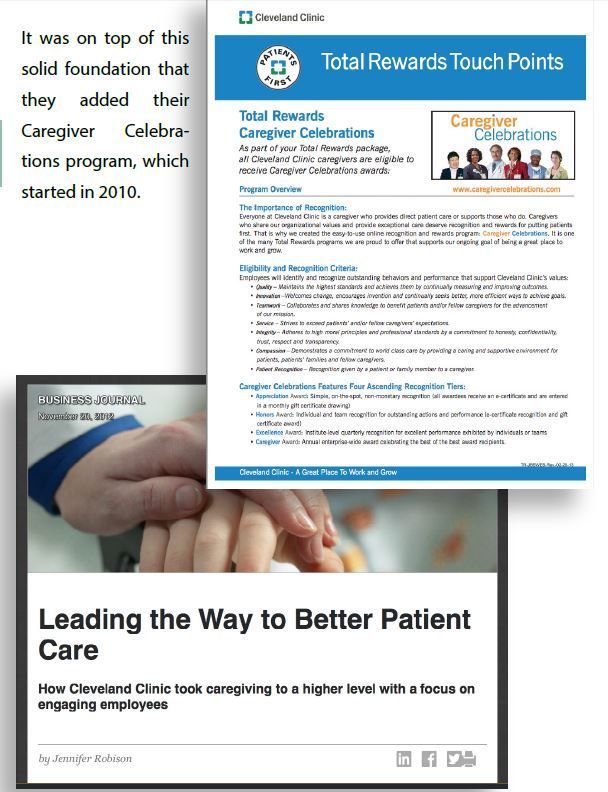 CASE STUDY
Metric Used
The Gallup Q12 employee survey was used to establish a baseline set of employee engagement metrics.
Education &Training
The "We Are All Caregivers" initiative was complemented by leadership education. The group taught and built a model based on service leadership, which was a variant of servant leadership (based on book by Robert K. Greenleaf).
"So far the biggest and most ambitious part of our engagement initiative has been something we call "The Cleveland Clinic Experience." This is a series of half-day learning sessions attended by every one of our 43,000 caregivers." –Toby Cosgrove, CEO and President at Cleveland Clinic
Mission Vision Values
All initiatives were designed to complement their traditional mission, vision and values ("striving to be the world's leader in patient experience, clinical outcomes, research and education.") "Compassion and integrity" were added as new values that already included quality, innovation, teamwork and service.
Recognition Programs
Cleveland Clinic's values, vision, goals, mission, daily behavioral expectations and engagement come together in their rewards strategy. Patient satisfaction and engagement scores have increased dramatically.
Tier 4: Caregiver Awards
Individuals receive $2,000 and teams split $2,000 amongst their members. One individual and team receive the top CEO Award valued at $10,000.
Tier 3: Excellence Awards
Recognizes individuals or teams for exceptional effort or initiative resulting in a signi­ficant impact on patients, business, innovation, etc. A total of 4% of employees receive a monetary gift certifi­cate or cash award each quarter.
Tier 2: Honors Awards
Managers recognize individuals and teams for outstanding performance that leverage values and patients fi­rst culture. Recognition gift denominations range from $10 to $100. Overall program awards can be approved or denied by the institutes, divisions and hospitals -- a level of flexibility that was important to support business goals as the organization changed.
Tier 1: Appreciation Awards
A non-monetary award administered peer to peer, by manager or physician to employee or from patient to employee to say "thanks" to a caregiver for a job well done. Reinforces behaviors that support Cleveland Clinic values and a patient-centric culture.
Role-Based Lens
Cleveland Clinic provides an example of how a role-based approach combined with employee engagement, can lead to achieving fi­rm-level success. One can analyze their overall rewards strategy as follows, using the role-based lens:
Core Job Role. Overall market-level base salary and bene­fits programs signal a willingness to pay what it takes to bring in top talent; benefi­ts are designed to keep them. The organization wants to create a high quality compensation package to incent, be fair and keep people working at their best in their core job roles.
Career Role. Their tuition reimbursement program signals that learning new skills is important -- and it's considered to be one of the best in the market based on benchmark studies. Cleveland Clinic's mission emphasizes the importance of "further education of those who serve."
Team Member Role. Individuals and teams are part of Cleveland Clinic's recognition program, supporting the importance of being a team member. Teamwork is one of Cleveland Clinic's core values.
Innovator Role. Innovation is a core value, with individuals being recognized based on their ideas or innovations that have been used, with more rewards for innovations targeting improved patient experiences.
Organization-Member Role. The emphasis on "everyone being a caregiver" brings the organization-member role front and center. Employees think about being part of one organization -all with the same daily goal. This is a very powerful message that is not only delivered but reinforced by actions and the rewards program.
The Cleveland Clinic demonstrates synergy between values, vision, goals, mission, daily behavioral expectations and engagement – all coming together with their rewards strategy. The connections are what have led the many changes that have dramatically improved patient satisfaction scores, engagement scores and the work done at Cleveland Clinic.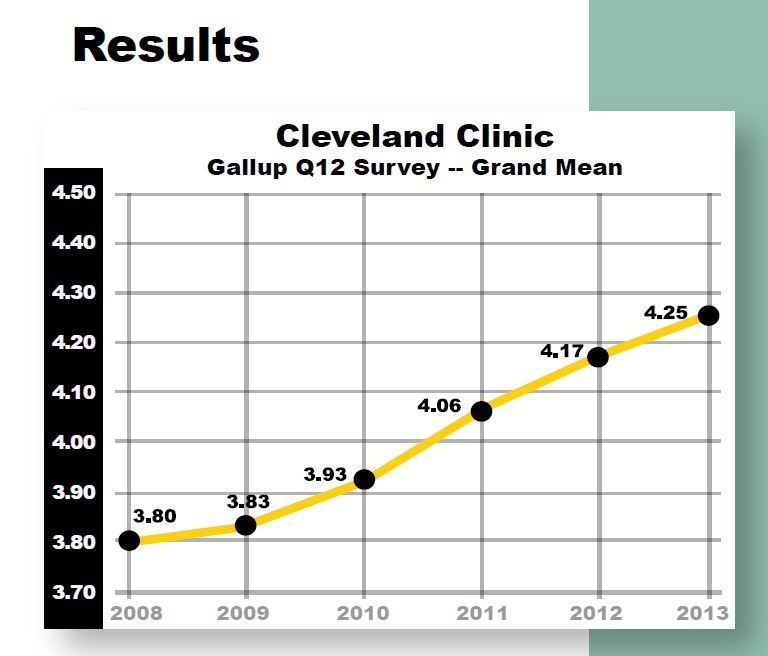 Rate this Article