Sign Up for Our Newsletter
IRF Roles of Engagement
Roles of Engagement
Asked the supervisor: "Why weren't you more engaged in the ___ initiative?" Responded the employee: "I thought I had more important priorities."
A scuba diver working at a summer camp does not face the same hierarchy or heavy rules-based structure of an architectural ­rm. This highlights another body of research which suggests that engagement efforts can only do so much -- the other part of the puzzle being enablement.
Skepticism Around Engagement
Skepticism around engagement as a movement exists for many reasons like the one noted above. After all, employees at summer camp have to feel that they are able to inject themselves into their work just as much as employees at a rigidly managed architectural firm. In sum, employees must feel enabled.
According to Royal & Agnew (2011) enablement is divided into two components:
• Optimizing Employee Roles
• Creating a Supportive Environment
It's a two-way street: Engagement is important to foster, but unless the organization provides its employees with the resources needed to meet the maximum potential of their engagement -- and they feel enabled to do so -- the employee is not getting anything out of demonstrating he/she is truly engaged.
Commercialization of Engagement
As can be seen by the many variations of what engagement is, what its determinants are, how it's measured and the sheer amounts of dollars ­firms are making from it, skepticism is increasing.
And because engagement has turned into such a big industry, the methodology by which engagement is measured and used to move an organization forward is being heavily scrutinized.
There are many factors that affect engagement. Equating a ­firm's success with engagement scores beg the question: Which came first? Did the fi­rm become successful as a result of higher engagement scores, or were employees more engaged because the ­firm became so successful? Said Cornell University HR Professor Christoper Collins (Flander: 2008): "Engagement studies are inherently misleading since they don't show which came ­first – the engagement or the company's success."
Engaged In What?
Vague measures of being "emotionally attached" or going "above and beyond" do not paint a clear picture when responses are tied to a "disagree or agree" 12 point scale. We must understand how it works.
What most agree on is that when an employee is engaged, he or she does indeed "go above and beyond." But we need speci­fic language and defi­nitions of what "going beyond" means in order to map the link between engagement and performance.
Optimizing employee roles is central to understanding engagement. As Kahn (1990) pointed out originally, employee engagement involves the employee being able to bring his/her preferred roles to work. By going back to this de­nition of engagement, we are better able to answer "What's In It For Me?" (WIIFM).
The fact is we have lives beyond the organization. If our work lives extend too far into our "life hours," then we become less enamored with our work and burnout. Certainly the fact that the scuba diver was doing what he loved (and which was part of both his work and personal life, he was more energized. Taking Kahn's position of preferred roles, we can begin a more organized dissection we call...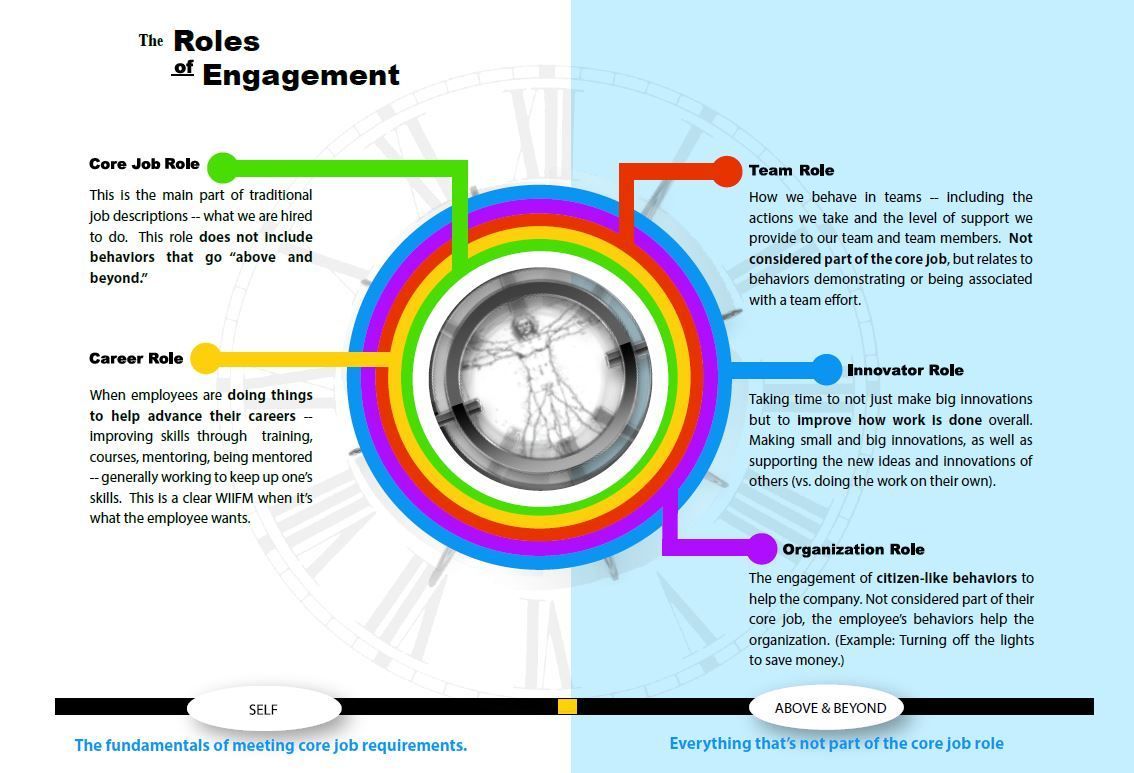 Five distinct roles can be used to de­ne what employees are asked to be engaged in at work. These fi­ve roles, introduced by Welbourne, Johnson and Erez (1998) introduced a role-based performance scale in an article published by the Academy of Management Journal. These fi­ve roles were chosen by examining the types of work employers allocate resources for.
What's most important here is that employees continually have priorities that they make based on their allotted time, and going above and beyond can't happen at the expense of the core job role.
These roles and the behaviors associated with them are hierarchical. You can't do them all at once. if you reinforce one as the "new top" then something else has to move down in importance. Simply put, not everything can be priority one -- or the employee will likely burnout.
The next page presents a methodology by which they can be prioritized according to the changing needs of the organization over time.
If employees become engaged, what's in it for them? With all the talk about engagement, the subject of the link between rewards and engagement has taken a back seat. Employees get important clues about what's really important when rewards and recognition are linked to the engagement process.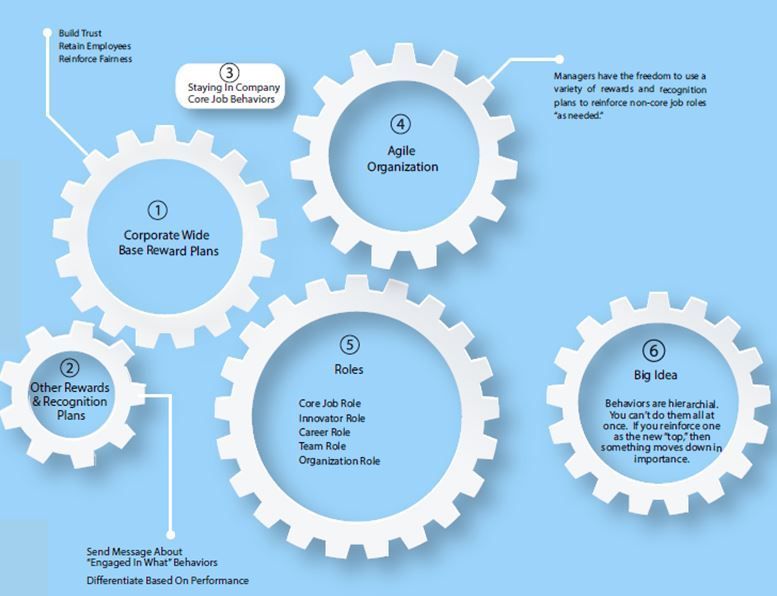 Proposed Model for Future Research and Learning
By focusing on ­five distinct roles and marrying appropriate rewards and administrative functions according to mission, vision and values, organizations will have the language necessary to link engagement to bottom-line business strategy.
1. Corporate Wide Base Reward Plans
Set up appropriately, corporate-wide rewards such as compensation attract and retain people in specifi­c jobs; however, they are not enough, because they do not signal what non-core job role behaviors are important or what is uniquely expected from employees. De­fining which non-core job roles are important leads to decisions that can be used to shape a recognition program.
2. Other Rewards & Recognition Plans
Other types of rewards are used to incent, reward, communicate and differentiate. These programs signal what non-core job behaviors are important in order to realize a competitive advantage in the market.
3. Staying In Company - Core Job Behaviors
When we communicate what the most important behaviors are for managers to focus on, the importance of one role is raised, with others receiving a lesser priority. This approach respects the employee's time constraints, and provides focus to avoid burnout.
4. Agile Organizations
By building in the capability for change, the organization creates agility. Agile organizations are better served when their rewards and/or recognition systems can be administered by managers. When managers can "own" the plan, it means they can reward what's needed today vs. what was determined important by leadership last year.
5. Roles
Employees cannot be engaged in everything. The success of any employee engagement program will be the degree to which employees know which behaviors are critical for them to be engaged in performing. Engaging in all will result in burnout and frustration.
6. The Big Idea
Managers can use formal and informal recognition systems to align employees to behaviors that are needed promptly at the time in question. Recognition systems are more flexible and easier to change. When implemented by managers, their use can be the link between engagement and role-based behavior.
A business can have a stellar engagement plan, but if the rewards and recognition system sends conflicting signals about the behaviors employees should be engaged in performing, then the engagement plan is at risk.
Rate this Article